Consider this: The Andaman Islands which form an archipelago in the Bay of Bengal are roughly 300 in number. Halong Bay, that lies in the north of Vietnam, eastwards of Hanoi, consists of roughly 1600 limestone islands and islets, centred around thick vegetation and jungles and enormous ancient caves. Perhaps they are rightly designated a UNESCO World Heritage Site, attracting tourists from all over.
Given its location, tourists either start touring Vietnam from Halong ending it at Saigon or vice versa. We clearly saved the best for the last as we visited Halong right at the end of our Vietnam tour, after doing the busy Saigon, the charming Hoi An, the unbelievable Cu Chi, the freezing Hanoi and the lazy beaches of Da Nang.
A comfortable four hour car ride from Hanoi with a brief stop mid-way at a huge handicrafts center got us to Halong. Now, there are several ways to explore the islands. Hiring a boat for a day. A day tour on a cruise and winding your way back to Hanoi by evening. Or an overnight stay, soaking in Halong for 24 hours. We did the last and I left the Bhaya Cruise II with memories of friendly but efficient hospitality, spectacular imagery of the islands, a great trip to the caves and some spirited kayaking.
As soon as you reach the bay area, the Bhaya crew gives you a warm welcome, offering you tea and the most refreshing jasmine scented warm towels. You're introduced to the captain and the staff that includes the housekeeper, chef, the dining staff and the overall in-charge, a young ever smiling, bustling with energy Vietnamese guy who calls himself Johnny though his name is Huan. Once aboard, you're greeted with a loud 'Sing Chow' or welcome aboard, the safety rules are spelt out, the rooms are shown and we are to meet for lunch in a while. Lunch turns out to be a simple but customised vegetarian affair post which I decide to take a glass of wine and soak up some sun on the deck level. Our cruise, being a small one, sails along at a very slow pace, with a barely detectable motion cutting through emerald waters, under a clear sky. Towering limestone islands engulf us, mobiles lose their network and all looks well in that moment, when faraway sea gulls call to an equally faraway vessel horn. We are told that November happens to be one of the best times to be visiting Halong, as the rest of the year is either too hot or too wet, dampening the ride.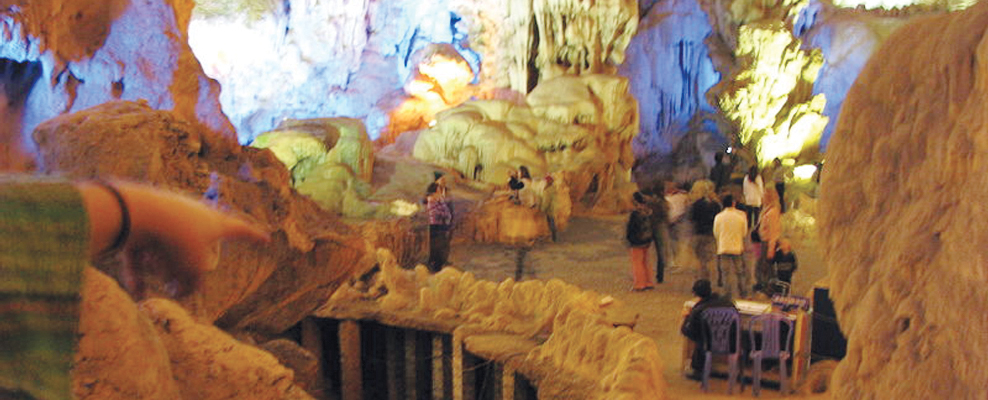 After a short siesta on the deck, we have the option to choose from two activities. We can opt for a humble boat ride, or enter into some caves, whilst kayaking. Lifejacket strapped on, I opt for the latter. Our cruise halts at a point from where we disembark. 'Tender' boats then take us on further to a point where lies the kayak stations. The point also has several women, selling their local merchandize on boats. Scallops, muscle and oysters are founding nestling with bottles of mineral water and straw hats. I share my kayak with Johnny and after some vigorous paddling, we let our arms and the oars rest a bit and the kayak comes to a slow, almost imperceptible halt. All pretty much quiet, except the occasional kayaker, passing by. As we start nearing the caves, we also lose much of the sun and the air turns cooler. Bending down, we kayak through some dark caves till we reach a point where the mountains are upon us again and Johnny is pointing out a
langoor
that he has spotted. Some of the western tourists, who perhaps, haven't ever seen a
langoor
before, exclaim at the length of its tail!
Later in the evening, our cruise drops anchor and we cease to move. The bar is opened and the crew is happily yelling "buy one get one free, buy ten get ten free" to all aboard. I oblige the bartender with a couple of margaritas which are sipped under a crystal clear sky, amidst an engulfing blackness, broken only by many flickering golden lights from several other bigger and smaller vessels that have parked for the night.
After one more round of cave hopping the next morning, bigger ones this time with phenomenal stalagmites and stalactites that have acquired all kinds of odd shapes over thousands of years, we begin our journey back to the bay. The sky looks overcast and the captain advises us to avoid the deck level. Our cave guide quizzes us on the way back, suggesting that some of the formations resemble everything from a turtle, to a sand dune and even a man's organ! A light drizzle descends with the boat now moving steadfastly towards the harbour, leaving the mighty limestone islands of Halong Bay behind.
Save
Save