Six yards of sartorial splendor! While it is a pan Indian story, it is Kolkata that truly unravels the scintillating choice of weaves. There is something for everyone, from cool crisp cottons—the Dhaniakhalis and Tangails and soft Phulia weaves; to the Baluchari weaves in silk which tell elaborate mythological stories on the pallus; from the light printed mulmuls to the must have Dhakai jamdanis; from the lightest of Murshidabad silks to the gossamer muslins; from the newly genred khadi saris in extra fine textures to linens that make their subtle statement. There's more. The elaborate bridal wear Benarasis, and the upmarket Bengal handlooms, the tussars and the specialist Assamese mugas, the Kantha worked sarees that have become a style statement. And at the bottom of the heap, but not to be sniffed at—the Minu sarees range, affordable, printed cottons and appliquéd creations that suit most pockets, as do the lowest range of tant sarees.
Exclusive Boutique Stores
Byloom
The very name is so evocative! Byloom. Every Byloom saree is special and easily recognizable, whether it is in silk, tussar, linen or cotton. There's something about the colours, the weaves, the texture and the style—all of these combining to making a Byloom saree the fashion statement it is today. You could pick up an Abir saree in a thick cotton and bright shades for under a thousand rupees, or a Shibori silk which uses a tie and dye techniques through weaves; choose from gossamer sarees in the most vibrant colours or in shades of white and sequined all over in cotton, silks and silk-cottons, Or go for a Disco Khadi sari for which they won a seal of excellence from Unesco where the sequins are trapped in the fabric with the help of a very complex weaves of double cloth. Then there are block printed cotton khadis, bagru prints in natural dye and dabu prints in natural dyes, telia and ikats from Andhra and Orissa , linen saris various other new woven textures, warp printed saris where the warps threads are printed then woven, revival of Tangail, Shantipur , Dhonekhalis and Begumpuri saris, fine cotton muslin khadi of 200s counts, among others. Jamdanis are specially woves for Byloom.
We have seen the rise and rise of Byloom. Back in 2002, it was Bailou, tucked away in Tollygunge, where its exclusive weaves set up by designer duo Bappaditya Biswas and wife Rumi were sought out by discerning customers. Today the beautifully restored old home at 58B Hindustan Park, with partners Malavika and Jeet Banerjee, is a treasure trove of sarees, home furnishings, accessories, and a café with authentic Bengali snacks. . We love the multi-layered light wool stoles in mind-boggling color combinations, and also the unique kantha stitched readymade cholis in different sizes that complement and accentuate a sari that you might want to wear immediately. The choice of readymade garments, and the innovative ways to add pep to your home with furnishings, and the numerous gifting ideas all add to the voyage of discovery at Byloom.
Rumi and Bappaditya have this to say about their creation : "Bailou and byloom is about equal opportunity fashion. Beautiful textiles need not be very expensive and unaffordable, the modest Abir sari has adorned Vidya Balan on the Lakmé fashion week ramp. Right now we are working with more than 1200 handlooms all across Bengal. Bailou the anchoring brand of Byloom has become a generic term like Tangail or Daccai saris bailou now is a kind of a saris and this is a huge contribution to the Bengal handloom. So it is obvious that it has contributed to a larger community of crafts people than just a number mentioned above both in terms of design sensibility and income generation."
Address: .58-B, Hindusthan Park, Kolkata 700029. Phone: 033 2419 8727. Hours: 11:00 am – 8:00 pm.
Kanishka
Owning an exclusive hand-block printed tussar saree from Kanishka's is a true sign of having arrived. For 45 years this has been a hub where a loyal clientele consisting of actresses and academics, singers and communication specialists, doctors and businesswomen and NRIs—in fact anyone who wants to make a style statement—have come back repeatedly for these creations in vibrant colors, subtle shades and innovative and traditional prints. The creators behind this are the husband and wife duo Dilip and Nandita Raja, he the designer and she the executor and overseer. One of their star customers is Padma Shri Usha Uthup who has all manner of sarees and uttariyas and dupattas customized for everything from her Kolkata sarees to those that are themed for occasions from the IIFA to a purple and gold KKR motif when she goes to cheer the team.
Kanishka's do frequent exhibitions where women they showcase and sell the best of kanjeevaram weaves, tussars, benarasis, light cottons and chiffons in summer and always have in stock some high end kalmkaris that are individually handpainted, or kanjeevarams that are personally sourced. They also stock a range of khadi, telia, chanderi, Dhakai, Maheswari, tangail, ikkat, and Chettinad cottons.
In response to market demand, they have Kora, a read to wear outlet, with asymmetric shirts, men's kurtas, some in a fine mulmul, women's trendy apparel and many add on accessories.
Nandita Raja says: "It is all a matter of team work. We never compromise on quality. Our mantra of success is consistency and creativity and constant innovation."
Address: 2/1 Hindustan Road, Gariahat, Kolkata – 700029. Phone: 033 2463 0465 Hours: 10.30 am – 7.30 pm. Closed Sundays
Weavers Studio
Weavers Studio in Kolkata's semi-residential Ballygunge area can be termed as a high end hub for art textiles, handpicked sarees, and a wide range of scarves, stoles, shawls, fabrics, garments , contemporary ready to wear ensembles and real and fashion jewellery. It has been around for over two decades, birthed by Darshan Shah whose mission statement when it was inaugurated in 1993 was "to use as many hands as possible".
This is its stock in trade—a team of self-motivated designers, managers, artisans, block printers who work in a dedicated production center along with master craftsmen to give discerning buyers a wide choice. Everything from hand block printing and natural dye fabrics using azo free colors to the resist dye textiles, wax block batik sarees and exclusive kantha creations. Several key designers stock their apparel at Weavers Studio.
Every now and then, exhibitions are held with artisans from various regions in India and other countries present to explain techniques. They have gone online, too. Shah's take on it: "Very ethnic, very Indian, very special."
Contiguous to the store is the Weavers Studio Centre for Arts where exhibitions of art are held on almost daily basis, apart from cultural events like theatre, musical presentations, dance performance, book launches, natural product displays and much more.
Address: Weavers Studio 5/1, Anil Moitra Road , Ballygunge Place, Kolkata 700019 Phone: (033) 2440 8926. Hours: 10:00 am – 6:00 pm. Closed Sundays.
Weavers Studio Centre for Arts Address: 94, Ballygunge Place, Kolkata, West Bengal 700019. Phone: +91 98198 87844.
The Upper Shelf
The Upper Shelf , started by Ratna Lahiri, is a women's wear private niche label store based in south Kolkata . Covering an area of 1000 sq feet, the store houses an eclectic range of saris and ready to wear. The in-house collection of saris is special as they are a great twist on the regular ethnic Indian sari from various regions of India. You will find a kota saree beautifully amalgamated with a kalamkari pallu and an ikkat blouse or for that matter a light chanderi sari in pastel shades with nature inspired embroidered motifs & a bagru print blouse or even a hand painted tussar silk with modern art inspired prints. Indeed, the 6 yard collection gives the buyer a distinctive choice of a one-of-its kind saree. The ready to wear apparel collection is also an exceptional mix of tradition and modernism, conceptualized for the contemporary Indian woman, who is a globe trotter and yet closely connected to her roots.
Interestingly, the store also does Made-to-Order , so in case you have time in hand, you can also have the luxury of getting a custom-made piece for yourself at a very fair price. The label works mainly with hi quality handcrafted and handwoven textiles and techniques and is very fairly priced. The range is priced between Rs. 2000 to 15000 and has a wide variety of saris and apparels for any occasion.
Address: The store is located at 11, Tapan Chowdhury Avenue (Lake avenue), just next to HDFC bank & Mystic Yoga studio and is in close vicinity of the famous Rabindra Sarobar park and Menoka cinema. Phone: (033) 2419 8685 Hours: 10:30 am -7:30pm. Closed Sunday.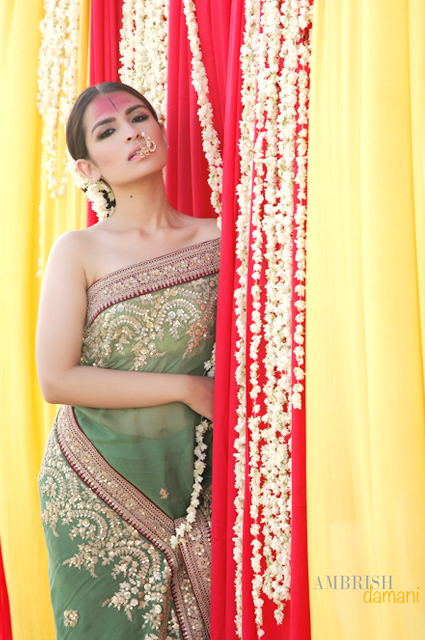 Ananda
Ananda was one of the first boutiques in Kolkata which started up way back in 1974 to cater to a clientele wanting special Bengal handloom and good quality printed silks and Bengal tangail silks. It revived Bengal handloom, when master weavers were engaged in Phulia, a region that is now famously catering to many revivalists of tant sarees. The Ananda range of Dhaniakhalis and Tangails have always been special with designers using special colours and suggesting new motifs. Ananda today has a wide range of cottons, silks, kanjeevarams, benarasis, chiffons, crepe de chines –all of them with exclusive designs.
Ananda's silk tangails are one of a kind and woven in Benaras in the style of the Bengal tangail, while its handblocvked and screen printed silks are distinctive.
Address: Queens Mansion, 13, Russel Street, Kolkata -700 071. Phone:: (033) 9674392275. Hours: 10:00 am – 9:00 pm. Closed Sunday.
Vastra Kutimm
This store can never be given a miss, situated as it is plonk in the middle of a road which fans out to eateries and other weaving outlets. Very specifically, it is at the crossing of Ballygunge Place and Anil Moitra Road in a semi-residential area. Its display in the round is usually filled with jamdanis in jeweled colours, inviting customers to go in and take a peek. The range of dhakai jamdanis is massive, possibly the best collection in the city, possibly even in the country, from the wide selection of whites to the variegated colours, from the cotton-silk mixed yarn to the fine muslin weaves. These sarees are sourced direct from Bangladesh. Price range : Rs. 8500 to Rs. 25000. Handlooms are the mainstay of this outlet, where you can find everything from Bengal cottons to Benaras weaves, Kanjeevaram silks, Hyderabadi gadhwals, Orissa ikkats, Assamese sarees and tussars, fresh kotas, chanderis and kosas from Madhya Pradesh, Bhagalpuri silks from Bihar and dramatically woven matka and kora silks. Their sarees have a unique stamp, with exclusive designing emanating from their captive printing facilities in Serampore, which is the hub of saree weaving and printing in West Bengal. They've gone online too and orders are shipped in 12 hours with no extra charge. Address: 13/8 Anil Moitra Road, Ballygunge, Kolkata 700019. Phone: (033) 24404094; 9836243268 (Tarak Saha). Hours: 11:00 am – 8:00 pm; Monday: 2 pm – 8:00 pm. Closed Sunday.
Meera Basu
For the discerning saree wearer in Bengal, a Meera Basu weave has always been de rigueur in her wardrobe. It used to be a kind of serendipity outlet when Meera Basu, a young widow, started sales of tant sarees from her home. You were sure to come away with something just a little different. Today, it is a flourishing place, located in the same No. 8 Sarat Banerjee Road, with its low rise bhadralok homes all around. But the huge selection is quite mind boggling. Film stars make their style statement with Meera Basu sarees, as do power women from the corporate world, as well as artists and singers and dancers, political honchos, too.
What are the kind of sarees you could pick up here? Dhaniakhalis and tangails, naturally, mooga, katan, kora, tussar silks in attractive designs, with muslins topping them all. Here you can expect to find Baluchari sarees with special elaborate pallus which tell many tales; bishnupuri cottons, kantha sarees. And a big range of dhakai jamdanis. Chinkoy Basu, who runs the show today is gung ho about the weaver's exchange programme they have between West Bengal and Bangladesh.
A saree here can be bought for as little as Rs. 400, while the splurge and sensation come when you encounter an exclusive muslin for Rs. 60,000.
Address: 8, Dr. Sarat Banerjee Road, Kolkata 700029. Phone: (033)-24664043. 9830038677: Chinmoy Basu. Hours: 9:00am – 6:00 pm. Closed Sunday.
Assamese Sarees
Sampa's Boutique which is run from her home by Sampa Das at Panditiya Road, has a wide collection of personally sourced muga silk sarees and mekhla chadors of Assam and a selection of men's kurtas which she designs, also in Assamese silk Today, Assam's Muga has been added to the list of products granted the protection of geographical indication.
Sampa Das has been reviving handloom for half a century, going to the weaving region of Soalkuchi in Assam, (30 kilometres from Guwahati town) visiting museums to cull out rare patterns and then spending time with weavers to rework these ancient designs
Muga, the golden silk, rich in texture and sheen, was worn at one time only by royalty. An Assamese asset, it is nurtured and unravels itself through the fabulous traditional designs inspired by nature—trees, tendrils, flowers and leaves, peacocks and other birds and animals and geometric tribal motifs. At the boutique, you can pick up sarees in traditional colors like red, green and black which provide a dramatic effect against the golden shade of the Muga fabric, although the weavers have been encouraged by Sampa to extend their colors to include yellows, greens, blue, being, silver, coppery pink, brown and wedding sarees have the additional embellishment of gold and silver thread work. While the sarees range from Rs. 10,000 to 50,000, the lighter mekhla chadors, some in cotton and others in a special silk, have an affordable range from Rs. 3000 to Rs. 7500.
Address: Sampa's Boutique is in Flat No 1 , 15th floor, Tower 2 Oasis, 38/1 Panditya Road. Phone: +91 98300 35836. By appointment only.
The Triangular Park Tangle
There's a whole stretch along South Kolkata's Rashbehari Avenue, which is part of the Triangular Park area, is a melee of shops of every variety, be it clothes, jewellery, shopping malls, old fashioned bedding stores selling mattresses, pillows and more, specialized medicine shops which still carry the label "chemists and druggists" and the ubiquitous pavement vendors selling slippers, soft drinks, comfort foods like puchkas.
But the saree outlets stand out with the glitzy pieces in the show windows and flashy neon signs. Most of them have been around for decades, and continue with their traditional range, while the new mulstorey ones have plenty of glitter, and also a wholesome array to suit just about any pocket.
There's no getting away from the traditional stores which continue to peddle the kind of fare that existed decades ago, but are still there for their loyal customers and for those who value the silks and fabrics of yesteryear.
Among these we count
Kantha Specialists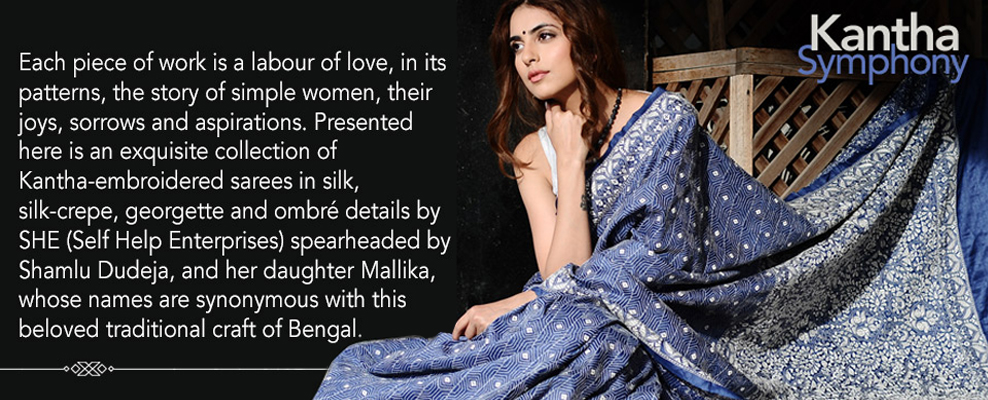 Malika's Kantha Collection
Kantha: For many people in Bengal who have grown up snuggling under a homemade quilt made up of layers of discarded sari with a humble running stitch keeping the cloth intact, this was what kantha meant. It was an unsophisticated, everyday quilted thing that had no pretense at being anything more than a comforter.
From this homespun invention Kantha has outstripped its utilitarian image to getting into a new level of sophisticated craft. The scenario continues to be largely rural. The very same women who were putting together pragmatic pieces have gone into intricate designs with running stitch, using colour, patterns, imagination. Into the most exquisite creations that women of discernment are wearing as sarees, stoles and using as wall hangings to adorn their homes.
Where can these creations be found? With a revivalist like Shamlu Dudeja, who, 30 years ago, started a village model under the banner of Malika's Kantha Collection. Soon with its apt acronym S.H.E. (Self Help Enterprise) was established as an NGO to work out a network of team leaders who would go further into the interiors of Bengal, and coax willing workers to earn a little pocket money by making kantha textiles during their languorous noontime hours. The number of workers snowballed steadily as sales increased in various parts of the country and in different parts of the world.
To possess a fabulously embroidered kantha sari or fling on a dupatta that could dress up a simple kameez, to shuck on an elaborate kantha jacket over casual trousers, or sling a stole over western clothes is the way women have preened their exquisite kantha creations. At Malika's Kantha Collection in a venerable old Alipore home, you can find a melee of creative colours and motifs, in a variety of fabrics from tactile tussars, to clingy georgettes, from sensuous silks to crisp cottons. You can get a delicate shade of fuschia, or a ravishing red with black motifs, a vibrant ochre or a daring indigo, in the most unusual combinations, and designs. From tiny batuas to massive wall hangings and bedspreads, there is something for everyone here.
Prices range from 1500 for stoles to Rs. 10, 000 to 20, 000 for sarees; 10,000 for two- sided quilted silk jackets. A large Tree of Life Wall Hanging for Rs. 20,000 or a Lord Ganesha or a Tagore tale scene for Rs. 5000. to 6000 (19x20 inches)
Address: 4/1 Alipore Park Road, Kolkata 700027. Phone: 2479 7852. Hours: 10:00am – 6.30 pm. Closed Sunday.
Neelanjana Ghose
You get a very different type of kantha work with Neelanjana Ghose. More on the lines of the nakshi kantha of Bangladesh. Her mother, Sreelata Sarkar was a pioneer in kantha stitch craft in Santiniketan and the mantle has passed on to her daughter Neelanjana Ghose who is a specialist costume designer for films, particularly for her National Award winning husband Goutam Ghose's films.
But in her own right, her creations have gone beyond the six yard styles to home furnishings, stoles, dupattas, kurtas, trays inlaid with kantha, cushion covers, coasters, bedspreads, curtains, backpacks, too. She makes high fashion long jackets and coats
The coasters are tagged at Rs 250, while the batuas come for Rs 900. The jackets range from Rs 4,000-9,000 and the saris Rs 6,000-15,000.
The saree stores that have stood the test of time
Indian Silk House
At the Indian Silk House, as its name implies, genuine silks are a sure shot. Whether it is Baluchari, Bomkai or silks from South India, it is all there. The introduction of V-Cut has given the store a fillip, as there is a rackful of trendy readymade cholis. This tailoring outfit can also do up saree cholis in just three days. The ready-to-wear cholis cost around Rs. 3000.
Increasingly, customers are encouraged to shop for their products online, where you can see the range of prices, the types of sarees, colours. The katan silks have proved to be very popular as are the lighter silks with zari borders. Every type of silk saree can be had here, from Assamese, Bomkai and Benarasi to Chanderis, Dupions, Kotas, Maheswaris, Patolas, Garads.
Address: P-92 Lake Road, also in College Street and 129A, Rashbehari Avenue, Dover Terrace, Ballygunge, Kolkata- 700029. Phone: (033) 4073 5503. Hours: 10:45AM–8PM
Nalli
Wearers of the rich silks of the south need not make special trips to Chennai to the 80 year old Nalli, any more, as this iconic store has come to Kolkata. With its marvellous frontage in Ballygunge Circular Road, which no passerby can miss, Nalli's two-storied outlet has something in store for every pocket.
You just have to state your budget and the kind of saree you are looking for, and you are directed to the correct counter. The ground floor houses the pricey range of sarees There are several types of kanjeevaram silks, in a variety of shades, and, of course, the heavily worked ones with pure zari. There are Uppada, Narayanpet, Venkatgiri and Mangalgiri, Patola and Mysore silks and Kerala Kasavus. Looking for a kancheepuram korvai weave? It is here in Nalli, but the significance of this weave needs to be understood. "A korvai saree's border and pallu are the same colour," according to the director of a Weaving Centre in Kancheepuram. "They are in bright contrast to the 'body' which is in a single or a family (shades) of colours with tonal contrasts. Weavers use the ancient craft of three-shuttle weaving and interlocking weft to get this effect. The saree is ornamented with pure gold zari." So, there is plenty of exploring to be done in this outlet, whether it is for gifting, everyday wear or when a wedding is in the offing.
The upper floor has the salwaar suit pieces, dupattas, scarves, and many affordable south cottons in bright shades with contrasting borders and kalamkari print sarees. Rs. 600 upwards. Carry it all away in their excellently branded shopping bags.
Address: 29/1B Ballygunge Circular Road, opposite Tripura House Open: 9am to 9pm, all days. Phone: (033) 2475 4567. Hours: 10:00 am – 8:30 pm.
Vashdeo Tolaram
This tiny shop has an amazing collection of sarees that any discerning buyer would hanker after. Kanjeevarams from Tamil Nadu, Uppadas and Gadhwals from Andhra Pradesh, Gujarati Paithanis are some of the highlights of their collection. There are gadhwals in both a cotton body and contrasting silk border and pallu and the full silk ones, the former in the Rs. 3500 range and the latter costing around Rs. 11,000. This is also the price of the peacock hued Paithanis, while the Kanjeevarams and Uppadas vary according to the zari involved and the patterns.
Address: 133/1A, Rashbehari Avenue, Kolkata 700029. Phone: 033 2464 1095.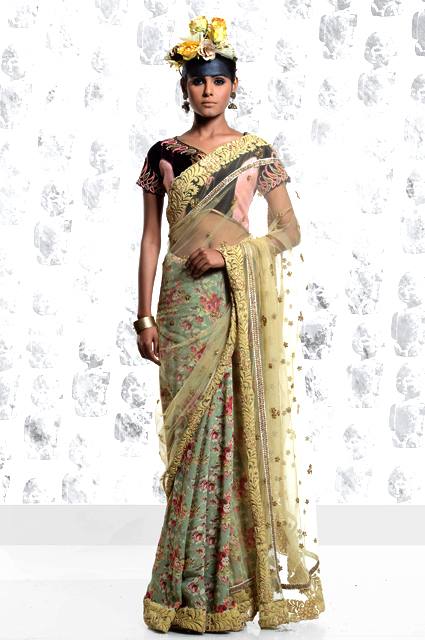 Priyo Gopal Bishoyi
This multi-level store is a place which will not daunt any shopper—as it serves a multi-layered clientele. The ground floor has a range that just about any one can afford,. So, it is easy to pick up a range of synthetic sarees starting from Rs. 350 and going on to Rs. 500 to 600 with a blouse piece. Some have a cottony feel, and thre are printed cottons available, too, while others have a silky and satiny finish—many of them suitable for working women and those who travel by public transport and those looking for durable wear during monsoons. The sarees have nomenclatures like Fancy, Pure, Art.
The next couple of floors offer a range of Banarsi silks, the heavier ones from South India, Bengal handloom, Ikkat ,Baluchari and Bomkai sarees. While Balucharis are characterized by the elaborate patterning on pallus with stories from the epics, among other festive scenes, while the Orissa Bomkais also have well worked pallus.
Shopping for bridal wear—lehengas with heavy embroidery on chiffon or georgette , and elaborately embroidered sarees can be found in many ranges to suit all types of pockets. The other outlet is in Burrabazar.
Address: 113/1 A, Rashbehari Avenue, Kolkata 700029. Phone: 033 2465 8246. Hours: 10.30 am – 8.30 pm. Closed Sunday.
Bhojraj
It has been more than half a century in the business and the twin establishments next to one another are usually packed with those who know exactly what they want. For here you can find real chiffons, in the prettiest of prints and priced at Rs. 3,500. It's the real thing and not the synthetic imitations that flood the market. Here you can get a choice of cotton and silk gadhwals, in excellent colour combinations, something that most newfangled stores may not have, or even know of. Plenty of kanjeevarams, designer wedding sarees, embroidered creations, too.
Address: 113, Rashbehari Avenue, Gariahat, Kolkata 700029. Phone: 033 2464 1613. Hours: 10:00 am – 10:00 pm. Closed Sunday.
Saree stores: New Entrants
In the quiet low-rise residential neighbourhood of Hindustan Park, there are several new textile boutiques, apart from stores like Fabindia. Some of the new entrants have on offer not just sarees, but home linen and décor items, fashion jewellery, and a lot of unusual artistic creations. Two of the charming outlets:
Bunkaari India
They pride themselves on "rediscovering the Indian handwoven". Thus it is that you can find here Bengal weaves, starting from Rs 1000 and going on to 7000 to 8000, and more for esclusive creations. Jamdanis made this side of the border are an attraction There are kosa silks, Jaunpuri and Bhagalpuri silks and cottons, Maheswaris, Kalamkaris, Uppada silks. Some of the Maharashtrian and South cottons are extremely reasonably priced,. So are the bedspreads with matching pillowcases. Plenty of salwaar suit sets fashion jewellery, too.
The store is a quaint restoration of a residential corner property.
Address: 72 Hindustan Park. Kolkata – 700029. Phone: (033) 4007 4747. Hours: 10:00 am – 7:00 pm. Closed Sunday.
Bhumisuta
The signage in Bengali attracts you immediately. It has a pronounced ethnicity in its demeanour and products—imaginatively designed handloom and handcrafted merchandize. Special Bengal saree weaves, mulmuls, as also vibrant weaves made by Agor , a Bodo community in Assam, Mulberry (karabi weaves) , shibori sarees, and dabu and ajrak art forms are used. A well designed batik saree costs around Rs. 6500, while a shibori cotton is for Rs. 3000.
Women's and men's ready to wear, home accessories, imaginative products sources from NGOs like AMRA in wood, organic and natural products, lampshades and soon to come, organic vegetables every Sunday.
Address: 8/1C Hindustan Park. Kolkata - 7000129. Phone: (033) 6450 0139. Hours: 11:00 am – 8.30 pm.
Ambrish Damani
Ambrish Damani is a label in itself hailing from Kolkata in the fashion industry. Since 1999, the designer has developed a unique style of its own, reflecting the ancient traditions of Bengali Heritage. The kind of understanding Ambrish contains about the ancient designs and traditional crafts is unmatched and this has given him an extra edge as a designer 'From the East'. Ambrish has a very rich lineage of entrepreneurs in the corporate world and through his hard work and label he is not only pushing the boundaries but also expressing his passion for design and creativity. His designs are not only very wearable and comfortable but also offer a genre for every occasion. He creates simple designs to suit all women in different age groups and also makes them look elegant and stylish without pinching pockets. His creations have a certain panache, modernity and convenience which make the clothing easy to drape and maintain, especially for working women. Please find the link attached for further details - http://www.ambrishdamani.com/
Ekru
Ekru is a label synonymous with conventional designs and simple elegance. The brand is a joint venture between two young and aspiring designers Ekta Jaipuria and Ruchira Kandhari. The fashion label was established in Kolkata 16 years ago in 2000 and has expanded to become an extremely well-renowned and sought after brand. Staying true to their roots they derived their brand name Ekru which means raw or 'kora' fabric being one of initial materials with which they started working, fortunately it also stood for the initial of both designers. Due to their base in the cultural hub of India a lot of their work has been inspired by Indian textiles and embroidered prints. Their fascination with traditional art and craft is reflected in their collections to which they add a contemporary twist making the brand classic yet understated. In the past they have been a part of Wills Life Style India Fashion Week and Lakme Fashion Week, through which Ekru has left a mark in the fashion arena and is a familiar name among the popular dailies and magazines.
For more information - https://www.facebook.com/ekrualluring/info/?entry_point=page_nav_about_item&tab=page_info
Save
Save
Save
Save
Save
Save
Save
Save
Save
Save
Save
Other Articles in SHOPPIN WOT