Nothing succeeds like staying power. The centurion Bengal Home Industries Association is a classic example of a craft hub that has been an intrinsic part of the culture-construct of this city.  Before we go into its very illustrious beginnings, we stand for a moment and marvel at the way this bird of a unique feather has soared and nested in various outlets, and has finally found its permanent home in a semi-residential area. The address: 172/2 Rashbehari Avenue. Busy thoroughfare, but the entrance is from the quieter Purna Das Road. A charming, compact store with an attached courtyard that adds to its attraction in the midst of urban Kolkata, where you sit and chat on stools made with rope, and humor a weary shopper's leg under the comforting branches of a jackfruit tree.
A hundred years of sourcing and serving up a range of handloom and handicrafts of the hinterland is a record of sorts. Where and how did it all start? It is literally a small beginnings one. If you consider that a little pocket kerchief was the trigger. The Association was formed in 1916, but we go back a year earlier when Mr. Surendranath Banerjee moved a resolution which sought to encourage the development of cottage industries. The Chief Secretary at the time, a M. Beatson Bell, while accepting the resolution, displayed a printed silk handkerchief and narrated a story that is worth retelling. The Governor, Lord Carmichael, as also his father, had a great liking for the sort of Indian silk handkerchief exhibited. The firm that supplied these from Edinburgh could not do so any more. And hence, the search for the source of these handkerchiefs. This, needless to mention, ended on a serendipitous note, finding the manufacturing place in Murshidabad. And so it was that the encouragement to revive the artistic crafts of Bengal and give a boost to the Murshidabad silk industry came from Lord Carmichael. And quite logically, Lady Carmichael becoming the first honorary president of the Association, which stood from the very beginning as a philanthropic, non-profit organization.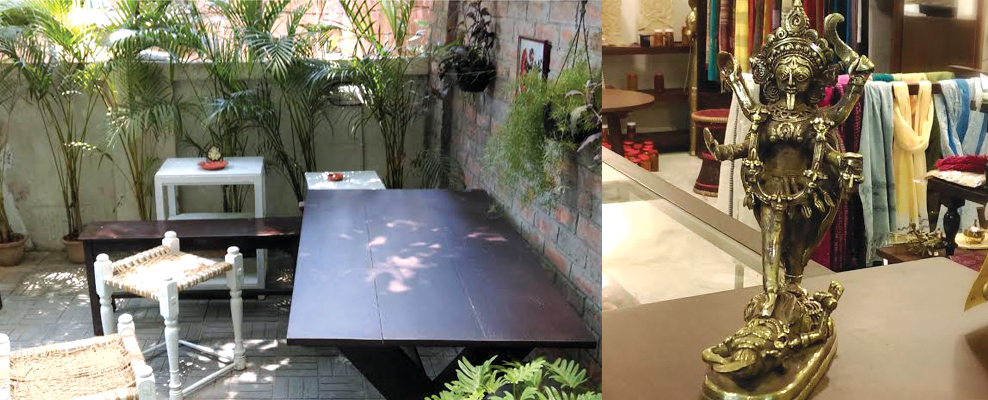 One of the founding fathers of the Association was no less than the illustrious artist and caricaturist Gaganendranath Tagore, who brought his artistic sensibilities to bear on the shaping of the product mix of Bengal Home. The patrons were generous royals from the Burdwan, Cooch Behar, Murshidabad and Cossimbazar families, the Governors of Bengal and their wives and government grants came in too, apart from individual funding from illustrious members.
And today it is a committee of committed members that runs this amazing handicraft NGO,   a group of women and a few men too, who give of their time without any material benefit other than a love for revival and promotion of many lost crafts, the taking forward to a contemporary level of traditional weaves and cottage industries and giving it both modernity and marketability. Humbly tucking herself into the "member" category is Nandini Mahatab, the Maharajkumari of Burdwan, carrying on tirelessly and with a great sense of purpose the re-instating of something that continues to be a household name.
Where you can find in 640 square feet of space everything that could furnish your home and much more.
We've grown up using the classic Roshanara fabric, a mix of cotton and rayon which comes in stripes and pleasing soft pastels, extremely hardy and something that was de rigeur for our curtaining and bedspreads. The store windows display another fabric which is woven in Benaras—in elegant cutwork, and there's plenty of matching lampshades to go with it. That's just one part of the story. While traditionalists will still to pick up cross- stitched cocktail napkins and tea-cozies and padded gloves, and printed tablecloths and tableware and bedspreads, there's a new angle to the products for the Gen Y. They can walk in and pick up T shirts with patachitra motifs where the real patachitra would be the preserve of their parents to adorn walls. And sitalpati made from water hyacinth gets a boost on the table in runners and mats and coasters and also as fashionable handbags and totes. Shantiniketan leather is now in swish colors and new look shirts and pajama racks are the novel pret line, to attract the younger crowd.
And the gifting ideas are endless. Apart from the fact that they are all indigenous craft, revived and repositioned, they have a certain timeless appeal. This is true of dokra work, that art of the lost wax process, of which there are plentiful artefacts; unusually fashioned mother of pearl articles (my favorite are the butter knives—they are wholly mother of pearl), hand-beaten glowing copper and bell metal, items in carved ivory and marble, ethnic jewelry, lots of woven and block printed products. Jute has been used to great effect from attractive table mat sets to elegant jute pouches and handbags with gold edging that look far more expensive than they are.
And of course a range of sarees, from the very inexpensive taants to the latest linen sarees, from the revived Santipur sarees with a Bhumri woven border to the two-tone Phulias—there's choice enough.
It is a continuous story of revival, of giving craftspeople a voice and a choice of outlet for their creativity and also to keep many crafts going, from patachitra art to basketry and shell work and all the weaving that can be culled from the districts around. It's a one stop shop—so detour from the malls and detox at Bengal Home!
(Note: the author is grateful to the Bengal Home committee members, and we count among them a few good men, for a lot of the background information, published in an elegantly produced souvenir with a Duck motif panel. That's yet another tale. Lady Carmichael on her visits to villages must have come across ducks and chickens there and subsequently at some stage, inspired Gaganendranath to design this peppy motif, of a bird, possibly a duck. At Bengal Home, if you are lucky, you could pick up a saree or a bush shirt with this motif on an indigo background and make a subtle, but stunning statement).
Save
Other Articles in Kolkata & Bengal