This interesting looking building had whetted my curiosity the few times that I had passed it on the way to the airport. But it was only the other day, for the first time, that I had the opportunity to check it out! And what a find! I am talking about Arts Acre Foundation, the spacious warm brick architecture sprawling very unobtrusively just after Unitech and Tata Medical Centre in Action Area III, New Town, Rajarhat.
Spread across 1, 65,000 sq ft it is a 'seamlessly flowing' art space as quite rightly their official catalogue claims! Set amongst lush paddy fields and hutments which are fighting a losing battle on the eastern fringe of the rapidly expanding metropolis that is Kolkata what strikes you as you cross the gate and enter the premise is how well the architecture blends into its rural surroundings. Winding pathways, ponds, summer house, landscaped-gardens are intercepted by sculptures, cut-outs and installations creating a space true to its purpose of being Kolkata's fist hub for creative people.
We are taken around by artist Samir Ray and go first to meet the force behind this impressive effort, artist Suvaprasanna; whose stamp can be seen very easily on everything here. He has been tirelessly working over several years to give shape to his dream project. And truly it's a dream place. Designed by architect and urban designer Partha Ranjan Das the Acre is a multidisciplinary space for artists, theatre person, authors, literates, film makers, photographers and more.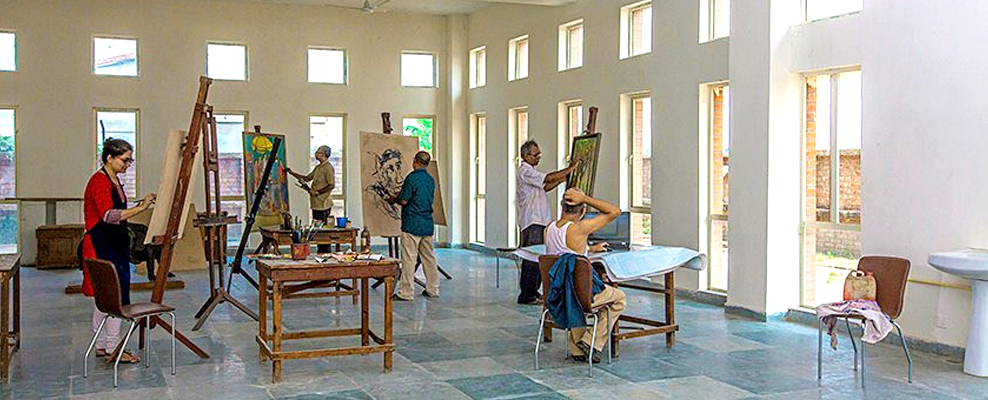 Samir took us across the three-storied sprawling building with its own auditorium, amphitheatre, conservation lab, workshop space for classes in printmaking, ceramics, photography, cinema and artist studio that can be hired, guest rooms, guest apartments, shops, conference room, four 1000 -4000 square foot galleries for limited period exhibitions, material shops where you can buy international level art materials at discounted prices and a cafeteria.
What struck me most as we walked through the rooms and hallways is the sense of space; corridors, double height atriums, lobbies, foyers, multi-utility halls intercepted by exhibits, lawns and terraces that add up to about 35,000 sq ft; every sq inch well thought-out and planned. The Acre has a sense of unhurried peace and tranquillity and that in Kolkata is rare.
The Acre also houses the much awaited Museum of Bengal Modern Art. The 40,000 sq ft galleries showcase the evolution of Bengal art from 'Early Bengal Oil' to contemporary artists from the state. The Spacious well lit galleries are named after the donors and friends of the Foundation. At about 500, the collection at the museum is far from complete as one of the artists humbly pointed out, but then the Foundation was initiated only two years ago on this campus. The earlier Arts Acre campus at North Calcutta, run more by enthusiasm of artists and like-minded individuals, was the seed that germinated and finally shaped into this professional space.
By now we had reached the cafeteria for that much-needed cup of coffee. The 'hang-out' as the cafeteria is affectionately termed is a large no-fuss room with an adjoining portico. The portico must be the best feature of this place! Overlooking a pond with a fountain and a lovely landscaped garden, its serene calm induces a desire to linger! So do just that, stay back; the plush guestrooms can be hired for nominal fare. Facing the portico is artist Suvaprasanna's signature 'crow' in an installation; a series of these common black birds that he has immortalised through his art, perched on a metal bar. I could have stayed on, indefinitely...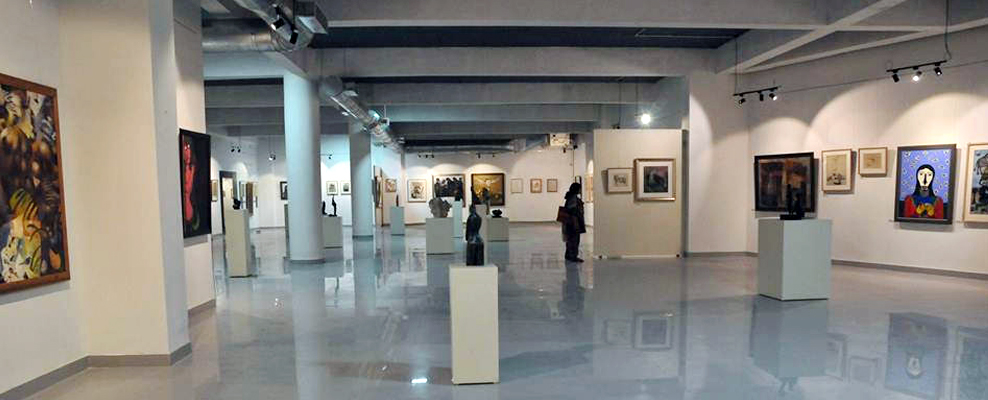 For those artistically inclined and have an interest in art and specifically in the history of Bengal art this is a must visit place. For those who are not, the ambiance is worth experiencing.
Arts Acre Foundation, Action Area III, New Town, Rajarhat, Kolkata 700156. www.arts.acre.org
For a guided tour & membership details, call: 003365600207
Save
Save
Other Articles in ARTY CRAFTY WOT