Before the Valley was strife torn, visiting Srinagar on a family holiday, we stayed in the quaint House Boats on Dal Lake. The welcoming host family cooked for us, served us our meals, took us around, and even shared their kangri with us... It was a novel holiday which I still cherish because of the friendship that blossomed between us as families and remained for years even after we returned. This then is the USP of Home Stays, the 'personal touch' of a friendly host who helps you deal with a foreign land.
The concept of Paying Guests is not new, in some places Home Stay is the only option; those of us who have been to the upper region of the Himalayas have experienced staying with local families but Home Stay as a preferred choice of accommodation has caught on more than ever in the past few years. The reasons could be several but mainly because the idea of holiday is changing, it is no more just a 'been there done that' list, of touristy things. Today's discerning tourist wants to EXPERIENCE a place, and this is where Home Stays comes in, opening out a vista of experiences.
So far the system has functioned in a very loose way, strictly unofficial, till Airbnb came along few years ago giving this sector of the hospitality industry a complete makeover. A California based Company; Airbnb has taken the world by storm with its idea of 'every home a home stay'. The web portal creates a platform for hosts and guests for rental services - to list, find, and rent homes, connecting users with properties to rent at a much lower cost than a similar property in a hotel. Airbnb has over 15,00,000 listings in 34,000 cities and 191 countries, worldwide. A totally novel business model and a challenge to the traditional concept in the hospitality industry; travelers choose based on published reviews while Airbnb charges a 'service fee' for booking both from the guests and hosts.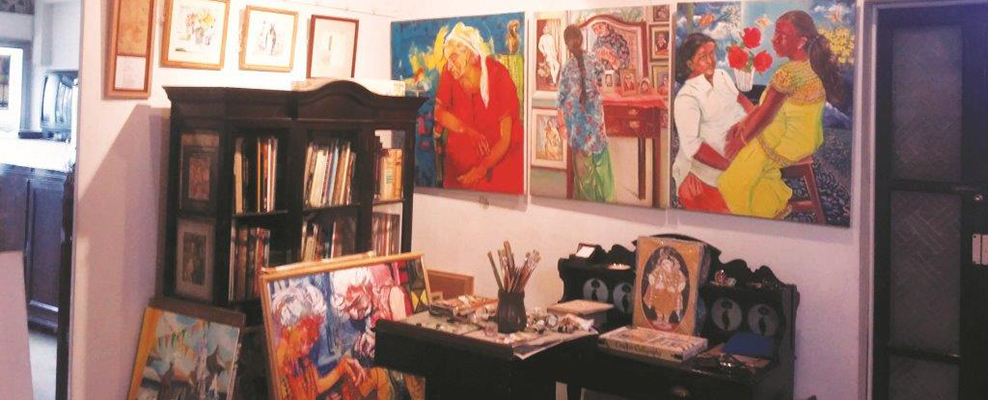 Kolkata Airbnb already boasts of 400 hosts and growing every day. The USP of an Airbnb stay is that it could range from the sleeping bag in the hall to a four poster royal bed in a palace, the portal even offers igloo stays in Alaska and parts of Canada. The Kolkata Airbnb stays may not be quite as exotic; however it still offers some interesting options.
Potter couple Mukta Dey, and her husband, have converted their studio-cum-home in the suburbs of Howrah into an Airbnb Acco offering an unique experience of staying among serene green surroundings, away from the humdrum of the city while you give vent to your creative sensibilities pottering about their studio, for a nominal fee. Mukta offers you the option of a complete flat with a kitchen or three individual rooms.
A city has its own characteristic quirks known best to a local, for Kolkata more so, known for its culture, art, food, music, palatial buildings and more. The various hosts listed on Airbnb Kolkata reflect the ethos of the city in a nicely mixed medley of stay. The duo of Shohini and her mother, Smriti (both artists) have converted their barsati, (the former studio of their late father) into an independent unit opening out onto the terrace full of potted plants. And there is Romabai who offers a part of her palatial heritage bungalow (in the posh area of Ballygunge) as a studio apartment with an extra bedroom for a largish family. A family of academicians and scholars, the house offers an old-world charm of the Calcutta of the 50's. Katayun Saklat, a senior gallery owner, has always had lodgers in her home cum gallery on Auckland Square; she joined Airbnb recently. She rents out one large room with a double-bed with provision for an additional bed if required. Staying with her has an added bonus; not only are you surrounded by beautiful paintings but Katayun, also the leading stained-glass expert in the city, is very knowledgeable about Indian art and a great conversationist and story-teller. Her place is perfect for artists and art lovers. An old Kolkata hand belonging to the niche Parsi community of the city, you could try your luck in persuading her to muster up some Parsi delicacies once in a while.
For hosts, Airbnb is a 'win-win' situation all the way. The mainstay of tourism is income generation for its populace; Airbnb satisfies this prerequisite perfectly as it involves locals at the grassroots level. Ordinary homes become lodges giving locals direct earning opportunities. Katayun though feels it is more than the money. Hosting guests, especially those from abroad, opens out new cultures and is a great learning experience. She also feels consequently you learn about your own city better, discovering newer facets and perspectives − those of the guests'.
Host Ratnabali Bose, a connoisseur running her own NGO, documenting Bengal craft and performing arts, feels 'the single criterion to be a host is you must be people-centric'. She offers a tastefully-done modern flat in South Calcutta. Having formidable knowledge of Bengal craft, her advice for the last-minute gift shopping is invaluable.
Not all hosts are private individuals, offering their homes; commercial Guest Houses also host through Airbnb and have their own house rules. Amritendu Roy of RedBrick Residency feels his business has improved considerably after he registered with Airbnb. He turned his family home of more than 100 years on Sarat Bose Roa  into a heritage guest house offering four rooms with period furniture, bric-a-brac and paintings. The polished wooden staircase from the front foyer leads up to a broad veranda, attached to a sitting room with two overlooking bedrooms; which he rents out. Another spiraling staircase leads to the roof from the adjacent sit-out. But for RedBrick Residency its USP is caretaker Nanda, who is always smilingly obliging, ready to muster up a meal or that glass of fresh lime at the end of a hot day of sightseeing.
Airbnb could not have launched in India at a better time; with the new Government policies encouraging local measures and innovations in the travel sector; both the Centre and the State are presently very pro Home Stay - relaxing tax rules, commercial levies and licensing process as a part of its 'Start-Up India program. In Kolkata it has not only arrived but quickly taken roots, capturing the imagination of both the hosts and guests. Perhaps this is an idea whose time has come; so join the bandwagon and turn every home into a home stay.
www.airbnb.co.in
Save
Save
Save
Save
Other Articles in SLEEPY WOT