Kolkata is considered to be the land of museums, in fact, the first museum in the country was established here. Scattered across the city there are several museums, some housed in imposing structures like the Indian Museum and the Victoria Memorial and some in small apparently obscure buildings but with equally impressive collection. Here's our list
Victoria Memorial (VM) Museum  – icon of Kolkata
The rotating 'Angel of Victory' on a revolving shaft atop the central dome of Victoria Memorial (VM) is the most iconic landmark of the city. It might look lithe but at 3 ton and 16 ft in height it's enormous!
Conceived by the imperialist Lord Curzon in memory the Queen Empress it was built entirely in white makrana marble. Surrounded by acres of lawns, gardens and ponds it attracts many denizens on a hot summer evening. What is not known to many is that the VM is also a 25 gallery museum and has the largest collection of water colors of 19th century colonial chronicled by the Daniell duo − Thomas and his nephew, William, during their pan-India travels, and the country's largest oil painting, the entry of the Prince of Wales to Jaipur in 1876 measuring 274 by 196 inches. The other most interesting exhibit must be the 'Calcutta Gallery' built during the tercentenary of the city; depicting the city's history from Job Charnock to 1911 when the capital of India shifted to Delhi.
The multi-lingual Son-et-Lumiere is not operational for now.
Address: 1, Queens Way, Kolkata 71.
Hours: 10AM–5PM. Closed on Mondays and National Holidays.
Phone: +91-33-2223-1890/1891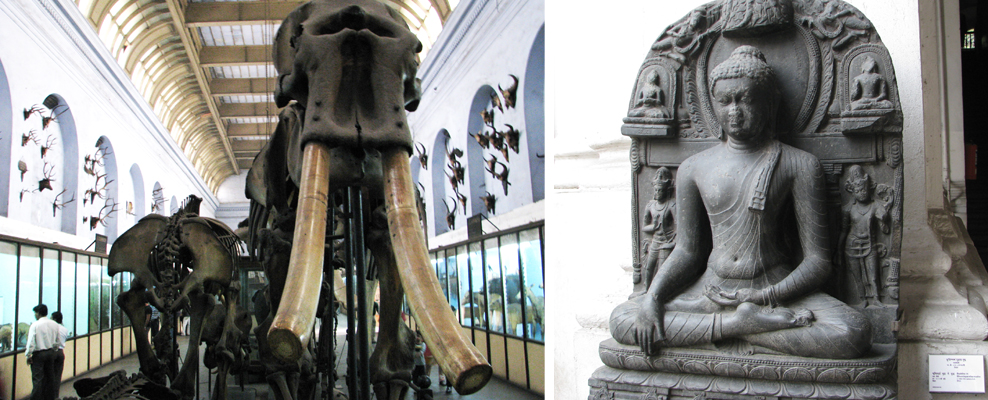 Indian Museum - the mother of museum's in India
April 1st is not always a day for playing practical jokes on people, certainly not the Indian Museum, which was established at its present venue on erstwhile Chowringhee Road on that date in 1878. Earlier housed at the Asiatic Society building on Park Street, it is the mother of all modern museums in India and still remains the largest in the Asia-Pacific region. Often referred to as the 'Jaadu Ghar' because of its eclectic and magical collection; it houses the three-lion Ashoka pillar, the official emblem of the Republic of India. The famous Bharhut gate sculpture is perhaps the museum's most prized collection. A fine example of post Mauryan Buddhist art the Eastern Gateway and railings of the Stupa reassembled here narrates the jataka tales. Exquisite columns, panels and friezes in red sandstone, depicting life-size luscious figurines absolutely fascinate you. If stones could speak, these figures would tell you tales!
Address: Indian Museum
27, Jawaharlal Nehru Rd,
Park Street area
Kolkata,
West Bengal-700016
Phone-+91-33-2286-1702/2286-1699
Hours: Tuesday – Sunday 10am – 5 pm. Mondays Closed.
The Gurusaday Craft Museum – tales kantha's tell
Situated in Joka, it is bit of trek from the center of the city but the museum overlooking a serene tank is definitely worth the visit. A crafts museum, it has over 3,300 folk arts and crafts of undivided Bengal. The museum is known for its kantha collection; and there are 200 odd here, bedspread kantha, asana kantha and kantha for bundling a baby.... made by village women as well as women from zamindari homes, these 200 years old textiles are chronicles of the way of life as it was. Viewing these you realize even the best of what you can buy in most shops today is an apology of what this craft should be! Exquisite and detailed panels most painstakingly worked on in vibrant colors adorn the walls, including a dorokha (double sided) kantha. The museum also has kalighat pat, old paintings, dolls, manuscripts, masks and more.
Address: P6, Diamond Harbor Rd, Diamond Park, Joka, Kolkata, West Bengal 700104
Phone:033 2453 5972
Hours: 11AM–5PM. Monday Closed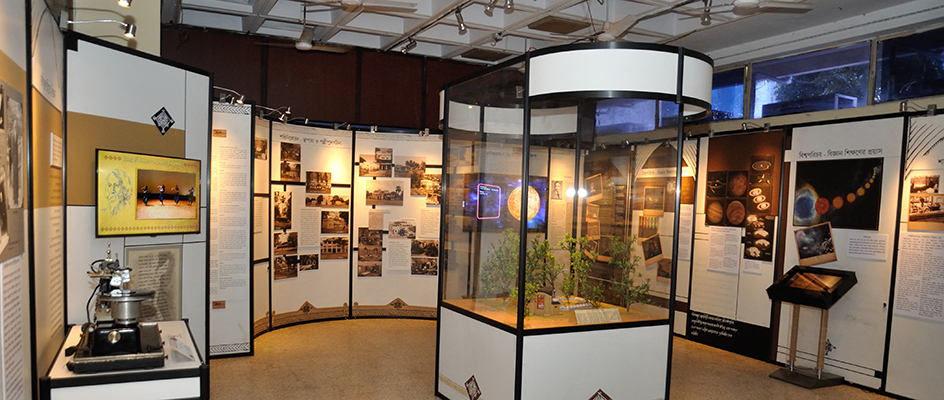 Birla Industrial & Technological Museum – BITM – fun learning through science
A fun-cum-learning place, BITM opened in 1959 as the first science museum of the country. Located in the heart of the city, it has 12 permanent galleries; which includes a very interesting Physics and Television Gallery and the Underground with a mock coal mine. The museum constantly has intriguing temporary exhibits, science shows, sky observation and other fun programmes. A very child-friendly place, it often hosts fascinating science-related events, competitions, workshops, talks, seminars and more.
Address: 19A, Gurusaday Dutta Rd, Ballygunge, Kolkata, West Bengal 700019
Hours: 10AM–5:30PM
Phone: Phone : 033-2287 7241 / 42 / 43. E-mail : director@bitm.gov.in
Nehru Children's Museum – the world through its dolls
The Museum opens a fascinating world of toys and dolls through which children also learn. Spread across four floors the collection includes toys like complicated train stations with switches and track changes, puppet theater from Thailand and a brilliant collection of dolls from more than 130 countries, dressed in their national costumes, exposing children to different races, costumes, life-styles and cultures. It also has a section on Indian mythologies; the complete tales of the Ramayana and the Mahabharata are retold through panels of Krishnanagar dolls giving a 3D perspective to the telling. A visit to the museum is a great way to familiarise children with these fascinating mythologies.
Address: 94/1, Chowringhee Road, Kolkata, West Bengal 700020
Phone:033 2223 1551/3517
Hours: 11AM–7PM. Closed Mondays
Email : ncm.va.academy@gmail.com
Save
Save
Other Articles in WANNAGO WOT